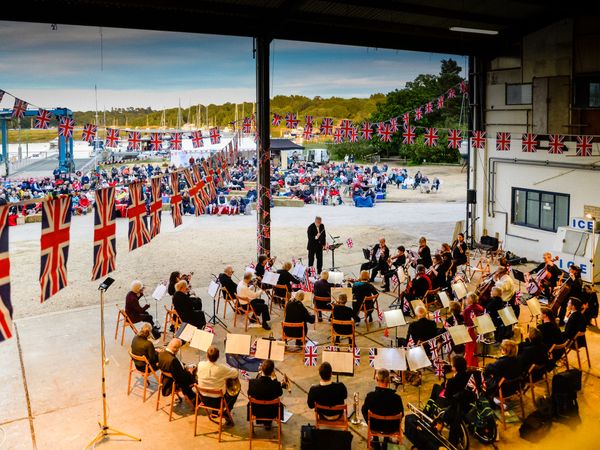 A charity concert by the Portsmouth Philharmonic, featuring some of the country's best loved music,  has raised more than £1,000 for the Alzheimer's Society. 
The orchestra was invited to the Buckler's Hard Yacht Harbour on the Beaulieu River to perform a private concert on June 15 for users of the marina. 
Featuring music by Eric Coates, Ronald Binge, George Frideric Handel, Edward Elgar, Henry J Wood and Hubert Parry, concert-goers were treated to a 'Last Night of the Proms' style performance which was well received by an audience of almost 400. 
Conducted by Hugh Carpenter and led by Colin Wilkins, the orchestra played for more than an hour and was given a rousing ovation at the end of the concert. 
Orchestra Chair Di Lloyd said: "It was an honour to be invited to play in this annual event and the orchestra found it a hugely enjoyable and challenging concert to be involved in. 
"The location was idyllic and we were very fortunate with the weather. To raise more than £1,000 for an important charity such as the Alzheimer's Society is an amazing achievement and everyone involved in organising the event should be very proud." 
Beaulieu River Harbour Master Wendy Stowe added: "We were delighted to welcome the orchestra to perform at our mooring holders' summer party on the picturesque banks of the river. The annual get together is a key date on the calendar of Beaulieu River events, bringing together new and old friends of the Buckler's Hard Yacht Harbour community. The rousing Proms style concert was perfect for everyone to wave their flags and sing along to the thoroughly enjoyable performance. We are very grateful to the talented musicians."
The Portsmouth Philharmonic is fast gaining a reputation of being one of the foremost amateur orchestras in the region. 
Di, who is a 'cellist, added: "The most important thing is that we are here to enjoy our music first and foremost. We are an open-access orchestra, which means we don't require auditions, but we do expect members to commit the time required to practise to ensure a high standard of performance." 
Last summer the orchestra featured in the Portsmouth Festivities, as well as playing a concert at its 'home' venue of the Church of the Resurrection in Drayton, where it rehearses, in December in aid of Tonic: Music for Mental Health. In March the orchestra played at Portsmouth Grammar School, raising money for the Stroke Association. 
Its next concert is on Sunday December 1 at 3pm at the Church of the Resurrection, which will feature a programme including Beethoven's seventh symphony. 
Since it was formed in 2009, the orchestra has now raised almost £18,000 for local charities. 
For more information about the orchestra  email enquiries@portsmouthphilharmonic.org. 
Picture by Colin Farmery / cocoFOTO