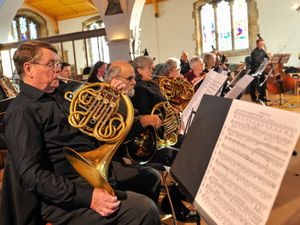 The Portsmouth Philharmonic will cross the harbour for its latest charity concert in aid of the Gosport & Fareham Inland Rescue Service which will feature music by Sibelius, Gounod and Haydn. 
The concert will take place at the St Vincent College Theatre on Saturday March 14 at 7.30pm and is the first time the orchestra has played a concert in Gosport. The Mayor of Gosport Cllr Kathy Jones, will be in attendance. 
With almost £20,000 now raised for local charities since the orchestra's foundation in 2009, its latest programme should prove popular and pre-booking is advised. 
Chair of the orchestra, and 'cellist, Di Lloyd also has a personal reason for looking forward to the event. 
"I'm delighted we're playing in Gosport at St Vincent. I have very fond memories of the place, as I worked there for 25 years and retired as Principal of the college in 2014. 
"The programme we have put together for this concert we hope will appeal to the public and, in turn, raise a decent amount of money for a great local cause. It was selected as one of the orchestra members has a close family connection with GAFIRS. 
"The Karelia Suite by Sibelius is a very popular piece of music, which featured in the theme tune to the long-running ITV current affairs programme This Week. Haydn's Symphony No 103, known as the 'Drumroll', is similarly well-known. Gounod's ballet music from the opera Faust gives a rounded programme, which the orchestra has been working hard on in rehearsals." 
Now in its 12th concert season, the Portsmouth Philharmonic now has a reputation as one of the area's leading amateur orchestras. 
Among the charities who have benefitted recently are the Cystic Fibrosis Trust, The Alzheimer's Society, The Stroke Association and Tonic: Music for Mental Health. 
Tickets for the concert are £8 – accompanied children are free –  and will be available on the door, or can be purchased online here. Booking fees apply.