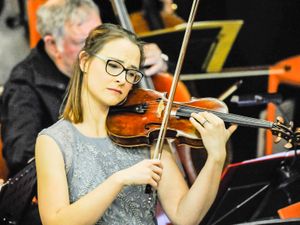 Solo violinist Catherine Lawlor stole the show as the Portsmouth Philharmonic's latest concert raised £400 for the Stroke Association. 
Lawlor performed The Lark Ascending with the orchestra at the Portsmouth Grammar School last Saturday   as part of a concert which also featured Beethoven's Egmont Overture and Haydn's Surprise Symphony, as well as Vaughan Williams' perennially popular piece. 
Di Lloyd, Chair of the Portsmouth Philharmonic, said: "We were very fortunate to be able to play with someone of Catherine's calibre and it was clear the audience appreciated her performance. 
"We were raising money for a very good cause and we were delighted the people of the city turned out in such good numbers to support us. 
"The orchestra is also hugely grateful for the support of the Lord Mayor, Cllr Lee Mason, who is a regular at our concerts and who enjoyed himself again immensely at this event." 
Concert goer Pauline Morrison said afterwards: "I so much enjoyed the concert, particularly the orchestra and soloist playing The Lark Ascending - it was so harmonious. It was also well supported and a great tribute to you all for a worthy, local charity." 
And another, Sandy Tremlett, added: "It was a very enjoyable concert. The orchestra is getting better and better. I also liked the introduction and information about each piece given by the 'cellist [Alan Glock] in the orchestra." 
The Stroke Association is the leading charity working to support people affected by the condition and local volunteers supported the concert and provided information for people at the event. 
Portsmouth Philharmonic was founded in 2009 and is now in its eleventh concert season. It has raised more than £15,000 for local charities in that time. 
Its next public concert will be on Saturday November 30, 2019 at 7.30pm and will feature music by Beethoven. The venue and full programme will be revealed in the autumn. 
In June the orchestra will be supporting the Hampshire & Isle of Wight Wildlife Trust at a private outdoor concert at Buckler's Hard. 
Di added: "This is a prestigious event and we are honoured to have been approached to play. It really does reflect how the orchestra is gaining a reputation across the region."
Picture: Catherine Lawlor performs The Lark Ascending / Picture by Colin Farmery / cocofoto.eu