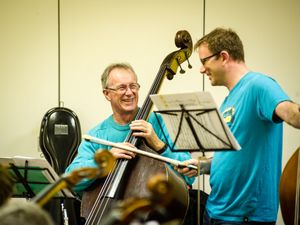 The tenth season of the Portsmouth Philharmonic gets underway on Sunday September 16 with the first rehearsal of the term.
Having raised more than £15,000 for local charities in its ten-year history, the new season promises to be as busy as ever.
The orchestra's first concert is on Sunday December 9 at the Church of the Resurrection in Drayton at 3pm, where a programme of music by Bizet and Tchaikovsky will be played.
If you are interested in getting involved with the orchestra, please contact using the page here to find out more about our current vacancies.
Picture: The double basses take a break at a recent rehearsal. By Colin Farmery / cocoFOTO