Become a member
We are currently in particular need of upper string players and brass. However, feel free to contact us and we can add you to our waiting list even if there isn't a current vacancy.
There are no auditions or trial periods and there is no minimum ability level required for entry, though orchestral experience is desirable. 
The orchestra also will call on specialist instrument players (eg bass clarinet, harp, rare percussion etc) when necessary for a specific concert. If you play a specialist instruments, please contact us to be considered for our guest player list.
To enquire about becoming a member of the orchestra please email us at enquiries@portsmouthphilharmonic.org - or use the contact form located under "Contact Us"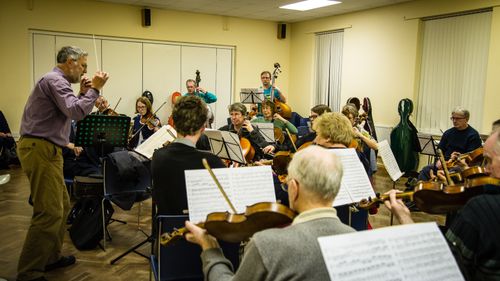 Subscriptions
There is a subscription fee payable at the start of each term. The fee for those in employment is £35 per term, a concessional rate for the retired £25 per term and students are £15 per term. We like to welcome everybody regardless of financial situation. If you are unable to afford the subscription fees please don't hesitate to come along anyway. 
New members are invited to come along for up to three rehearsals free of charge. The subscription fee for the relevant term will then be calculated on a pro rata basis. 
The orchestra is run on a non-profit basis and all subscription fees go toward the costs of running the orchestra, such as rehearsal room hire, music hire and conductor's fees.
Rehearsals
We rehearse regularly during term time on Sunday evenings from 7pm - 9pm.  
Below is a summary of the term dates for 2023-24
Summer Term 2023
Final rehearsal Sunday July 16 2023
Autumn Term 2023
Sunday  September 10 - Sunday  December 10 2023
(no rehearsal Sunday October 22 - half term)
Concert Sunday 10 December 3pm 
Spring Term 2024
Sunday January 7 - Sunday March 24
(no rehearsal Sunday  February 11 - half term)
Concert Sunday 24 March 3pm
Summer Term 2024
Sunday April 14 - Sunday July 7
(no rehearsal Sunday May 26 - half term)
Concert Saturday 22 June 5pm
The orchestra rehearses at:
Church of the Resurrection Hall   
2 Brecon Avenue   
Drayton   
Farlington   
PO6 2AP   
There is on street parking space available. See map for directions.