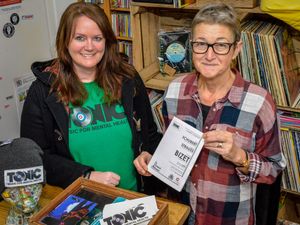 Music has the power to heal and the Portsmouth Philharmonic orchestra will be doing more than its bit to prove that to be the case at its latest concert in aid of mental health. 
Tonic: Music for Mental Health is a Portsmouth not-for-profit organisation working with people using music as a therapy to help people come to terms with the mental health issues they are facing. 
The orchestra's next concert at the Church of the Resurrection, Drayton on Sunday December 9 (3pm) will be raising funds for the charity. 
Featuring music by Schubert – the Rosamunde Overture – Strauss's Serenade in Eb Major and Bizet's Symphony in C Major, as well as Greig's well-known Peer Gynt Suite No 1, the concert promises to have something for everyone, as well as raising money for a great cause. 
Steph Langan Founder and Director of the charity said: "We're an independent organisation and we don't get any funding, so when community groups support us it means a great deal. It means we can put the money towards projects we don't have funding for. 
"We have a new timetable of creative workshops and music groups in January and February and it means we can add some additional workshops to that programme that we wouldn't have been ordinarily able to do." 
And although Tonic largely focuses on using popular music forms, Steph is a strong advocate of the role classical music has to play in helping people. 
"Classical music is key to supporting people. Lots of people who have mental health issues I've met over the years cite classical music as being a strong part in helping them feeling more relaxed and calm and it has a huge effect on people's wellbeing. It's incredibly important," she added. 
Orchestra Chair Di Lloyd said: "We like to support local charities wherever possible and we felt this charity was an excellent fit with our goals, so we are delighted to be able to support them. 
"The concert programme is varied, from more popular pieces to some challenging works, and I hope will appeal to people in the city. We are also honoured the city's Lord Mayor, Cllr Lee Mason, will be in attendance." 
The concert venue is in Brecon Avenue. Tickets, priced £8 for adults, with accompanied children free, are available on the door or in advance from the orchestra website: https://portsmouthphilharmonic.org/concert-programme Advance tickets are subject to a booking fee. 
The Portsmouth Philharmonic orchestra is the city's leading amateur orchestra. Founded in 2009, it has raised more than £15,000 for local charities. 
More information on Tonic is available on their website: http://www.tonicmusic.co.uk/