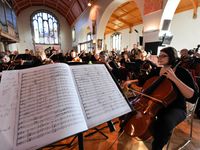 Portsmouth Philharmonic is delighted to announce the total raised by December 1's concert for cystic fibrosis (CF) is £835.40. 
The orchestra performed music by Humperdinck, Rossini and Beethoven at the Church of the Resurrection in Drayton. 
More than 80 people attended the concert, making it one of the most successful concerts in the orchestra's ten-year history. 
Dannii Hutchins, a local Community Fundraiser for CF said afterwards:  "On behalf of the Cystic Fibrosis Trust, I would like to thank all those who attended and organised this afternoon's concert with Portsmouth Philharmonic Orchestra. 
"It is a privilege to represent the 89 people in the area who have cystic fibrosis today and to witness a wonderful act of fundraising that will go on to support ground-breaking research and other services ultimately seeking a life-unlimited by CF." 
The orchestra's next concert is on Saturday March 14 at the St Vincent College Theatre, Gosport at 7.30pm in aid of the Gosport & Fareham Inshore Rescue Service.