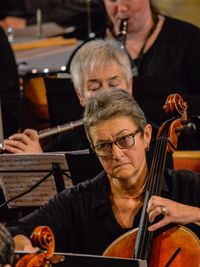 The Portsmouth Philharmonic is back with its programme of charity concerts and is promoting its first public concert in more than two years, featuring Mendelssohn's Italian Symphony. 
In aid of the Cavernoma Alliance UK (CAUK), the orchestra will be performing at its 'home' venue of the Church of the Resurrection in Penrhyn Road, Drayton on Saturday March 26 at 7.30pm. 
As well as the Mendelssohn, the orchestra will also be performing Gounod's Ballet Music from Faust, as well as a third piece to be confirmed nearer the concert. 
Orchestra Chair Di Lloyd (pictured)  said: "It will be great to be performing in public again. We did put on a special show for friends and family of the orchestra before Christmas, but that was very much to get us back into the groove after 18 months without rehearsals."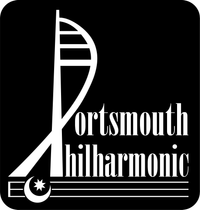 And Di revealed the orchestra now has a redesigned logo (right) to cement the link with its home city.  
"Since we changed our name to the Portsmouth Philharmonic in 2016, we have had a terrific logo with a nod to the Spinnaker Tower, but we wanted to make our link with the city of Portsmouth more obvious, so we have incorporated the star & crescent symbol into the design," she added. 
Tickets will be available on the door priced £8 (cash only) or can be purchased online here (booking fee applies).
The Cavernoma Alliance UK was founded in 2005, and its aim is to provide support and information for all those affected by cavernoma including friends, family, carers and professionals. For more information click here.
The Portsmouth Philharmonic was founded in 2009 and has raised close to £20,000 for charity  since its inception.