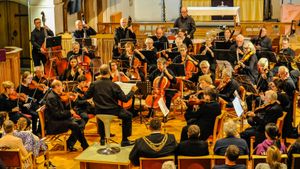 A charity orchestral event has raised £750 for a Portsmouth mental health charity. 
The Portsmouth Philharmonic Orchestra staged a concert featuring music from Bizet, Strauss, Greig and Schubert at the Church of the Resurrection, Drayton last Sunday . 
The concert was in aid of Tonic: Music for Mental Health, which is based in the city and uses music to encourage people to come to terms with mental health issues they are facing. 
Supported by the Lord Mayor of Portsmouth, Cllr Lee Mason, who attended the concert, the orchestra performed Schubert's Rosamunde Overture, Strauss's Serenade in Eb Major and Grieg's Peer Gynt  Suite No 1 in the first half. 
The second half was devoted to Bizet's Symphony in C Major, with a Christmas-themed encore to close the event. 
Steph Langan, founder of the charity, said: "It was an amazing concert, which at times made the hairs on the back of my neck stand on end. They are truly a great orchestra. 
"To raise this amount of money for us is incredible. It will have a major impact on the scope of support we can offer people in the new year. 
We have a number of workshops already planned and this money will enable us to do even more." 
Di Lloyd, Chair of the orchestra, added: "We are really pleased that we were able to raise so much. We like to support local charities wherever possible and Tonic's goals are completely in line with ours." 
The Portsmouth Philharmonic orchestra is the city's leading amateur orchestra. Founded in 2009, it has raised more than £15,000 for local charities. 
Its next concert is on Saturday March 16 at 7.30pm in the David Russell Theatre at Portsmouth Grammar School and will feature music by Haydn and Vaughan Williams. 
More information on Tonic is available on their website: http://www.tonicmusic.co.uk/