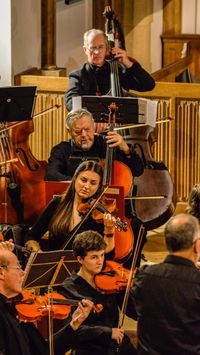 Portsmouth Philharmonic gets its twelfth season of charity concerts up and running on Sunday December 1 with a performance of Beethoven's seventh symphony in aid of Cystic Fibrosis. 
The orchestra, which was formed in 2009, will be performing at the Church of the Resurrection, Brecon Avenue, Drayton at 3pm
Supporting the programme will be performances of Rossini's Thieving Magpie Overture and Humperdinck's Hansel & Gretel Overture. 
Since it was founded, the orchestra has raised more than £18,000 for local charities and has gone from strength to strength. This time it will be the Cystic Fibrosis Trust who will benefit. 
Chair of the Portsmouth Philharmonic, Di Lloyd, said: "It's always a pleasure to play at the church as it is our home venue, as we rehearse in the hall here every Sunday evening. 
"This concert has been a challenge for us all to prepare, but we are confident people will really enjoy what we are going to play. The first two pieces are very well-known and Beethoven's seventh is also a popular piece. 
"We also have a special surprise up our sleeve as well. Our conductor Hugh carpenter likes to keep the audience on its toes. 
"It is great to be able to raise money for a well worthwhile charity, so we hope to see as many people there as possible. Light refreshments will be served at the interval in exchange for a donation to the charity." 
Advance tickets for the concert, priced £8 for adults (fees apply), are available online at skiddle.com and tickets will also be available on the door. Under 18s accompanied by an adult are free.