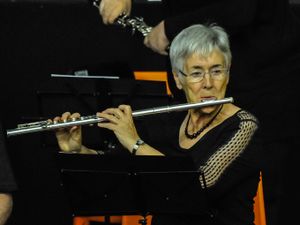 At its concert in November 2022, the Portsmouth Philharmonic dedicated the performance to founder Anne White, who retired from playing in the summer.
When Anne was a Southsea GP she had the idea of setting up an amateur orchestra in the city which would raise money for charity. 
She had played in the European Doctors' Orchestra, where medic musicians came from all over the UK and Europe to play, and proceeds of the concerts went to a chosen charity.  
She was sure that a city the size of Portsmouth could support an amateur orchestra that could do the same, so in 2009 she got together a small committee with a view to setting up what was then called the Portsmouth Philharmonia. The orchestra started rehearsals in March 2009 and held its first concert in June 2009, with the chosen charity being the Rowans' Hospice. 
Under Anne's leadership, the orchestra went from strength to strength and is now in its 15th season. There are approximately 40 members aged from 18-90 years, and we put on three concerts per year. Our repertoire now includes challenging pieces of music such as Beethoven's 7th and Mendelssohn's Italian Symphony and we have played concertos with semi-professional soloists. 
The orchestra has collaborated with a variety of other local groups and in 2011 Anne arranged for a Dutch orchestra to come over to Portsmouth for a few days and the orchestras played a joint concert. 
To date the orchestra has raised around £20,000 for mostly local charities. Anne plays the flute and was chair of the PPO until 2018.  
She has now decided to retire from playing in the orchestra, but we look forward to welcoming her back to future concerts and she has volunteered to help with refreshments during the interval.
Photo: Colin Farmery / cocoFOTO.eu