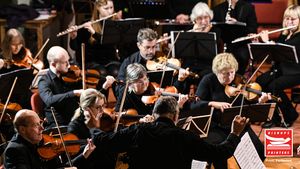 The Portsmouth Philharmonic is delighted to announce a partnership with Bishops Printers to supply its print requirements for 2023. 
Since its formation in 2009, the orchestra has raised more than £20,000 for local charities and it sees the association with the city's premier print firm as an important stage in its development. 
Orchestra Chair Di Lloyd said: "Since the pandemic we have been looking to professionalise our image and this relationship with Bishops Printers underpins that, allowing us to produce high-quality promotional materials and programmes for our concerts. 
"The orchestra is very grateful for Bishops' support and the fact that such a significant city business wants to back us is a huge boost for us and we hope this can become a long and fruitful partnership." 
Gareth Roberts, Managing Director at Bishops Printers added: "From spurring me on at the gym to helping me de-stress at the end of the day, I've always recognised the power of music as a mood enhancer. The importance of the arts in supporting and inspiring us is something I feel passionate about, so I'm delighted we're involved as Portsmouth Philharmonic Orchestra's print partner." 
The partnership will formally launch at the orchestra's next concert, featuring music by Mozart, Haydn and Dvorak, on Saturday March 25 at 7.30pm at the Church of the Resurrection, Drayton. 
For more details of the concert click here For more details of the range of services Bishops offer click here