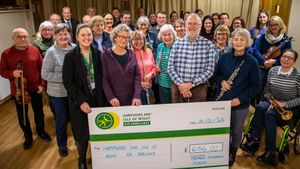 More than £650 was raised at the last concert of the Portsmouth Philharmonic, to support the Hampshire and Isle of Wight Air Ambulance. 
The orchestra handed over a cheque for £656 at a recent rehearsal which was the proceeds of the event at the Church of the Resurrection in December. 
Natalie Russell, supporter engagement officer at the air ambulance charity said: "Thank you to each and every member of Portsmouth Philharmonic Orchestra for your brilliant support. Your generosity, passion, and talent sent our team to another Hampshire local when they needed us most. 
"Thanks to you, they are now safely reunited with their family. Thank you for a moving performance and we hope to see you again soon." 
Di Lloyd, Chair of the orchestra said: "We were really pleased to be able to support such an important service in our community. The stories Natalie told us of the work the air ambulance does emphasised the crucial nature of its work." 
The orchestra's next concert, featuring music by Mozart, Haydn and Dvorak, is on Saturday March 25 at 7.30pm at the Church of the Resurrection, Drayton. For more details of the concert click here.
The concert will be raising funds for Aurora New Dawn, a charity supporting victims of domestic violence, which is backed by the Lady Mayoress of Portsmouth, Miss Marie Costa. 
Since its foundation in 2009, the orchestra has raised more than £20,000 for local charities and is kindly supported in its activity by Bishops Printers.